Alright, Monday I showed you the upstairs of our house, but I think the basement is what sold this house for us!
We love to entertain, especially casual entertaining, like grilling out or just having people over to watch the game; so when we moved to Kansas one of the things we really wanted was a good entertaining basement.  We got all of that in spades in this house!
We have a GINORMOUS entertaining room that currently houses our extra couches and TV.  Eventually we would like to buy a sectional couch and have furniture that is a little more coordinating, and a little less hand me down, but we just bought a house, so… PRIORITIES. There is also space for a pool table, so when my parents move out of the house they are in (later this year) we will be getting the pool table from their house.
Down the hall at the back is another guest room and a workout room (!).  Having a workout room in your house sounds very 80s fabulous.  And it probably is, but so far it has gotten some pretty great use! The previous owner installed good flooring and mirrors on two walls.  Let me tell you… want motivation to work out?? Just do a Jillian workout with nothing but yourself in the mirror… the video people make those moves look so smooth and easy… Me on the other hand? Not so coordinated!
I do love having a room set up to be able to work out in, and not having to hunt down my weights, bands, a mat and dvd player every time.  The husband and I have both used it quite a bit already, so I'm glad to have it! Back to the main room, there is a wetbar/mini-kitchen which is A-MAZING.  It has a dishwasher and everything! It doesn't have an oven or stove, but other than that, someone could live down here! Plus it is great to store all my extra kitchen things!
It is a full walk-out basement, so you walk straight out to the backyard, which is beautiful and has great landscaping.  Lexie already loves her new backyard and I think we will get a lot of use out of this as the weather warms up a bit! (And yes, our rickety old handmade picnic table survived the journey, but is definitely in desperate need of some TLC).
And lest you think that I have my whole house put together and unpacked… here's a peek behind the blog-viewing curtain: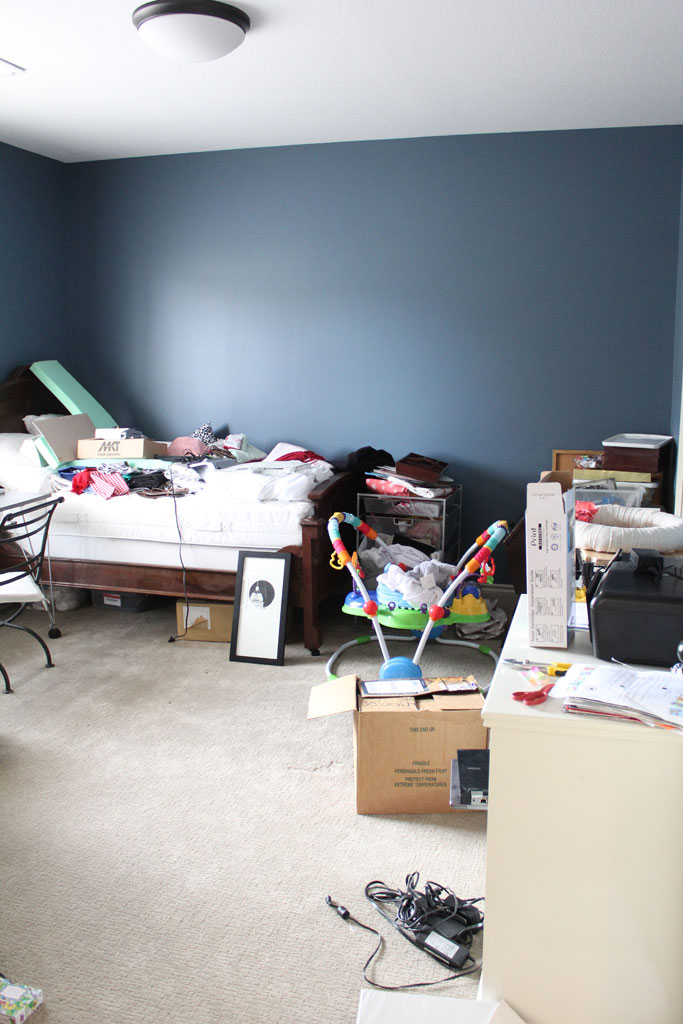 My office needs a lot of love as well, but I'm starting to feel more and more like this place is home! I'll post a few photos of Taylor's room tomorrow, so stop on by!