So I definitely owe you a new house tour since we have been in our house for approximately 3 months now and I haven't gotten one posted! If you want to see where we started out with this house, check out this post where I lay out some of my plans for the new house! Right after we took possession of the house we replaced all the carpet and then about 2 months in we hired someone to come in and paint the whole house.  BEST MONEY EVER SPENT.
So here are the in progress pictures of the house right now:
Dining Room–This is the view as you walk in our front door.  Almost all of the furniture in this room came from my great grandparents house in Western Kansas. And I am not a fan of that light fixture AT ALL, but don't have the money to buy the one I want yet! And the giant wall of mirror? Probably going to go as soon as I get brave enough to see how it is attached to the wall behind it.  We also just replaced the wood floors in this room and the kitchen.
And the view from the other side of the table.
Our main living space is here:
The upholstered ottoman is still one of my favorite projects ever.
Adjoining our living room is our kitchen and breakfast area:
Once you make your way upstairs you get to our Bonus Room.
Just off of that room will be our Nursery, which is majorly in progress right now.  Click here for my inspiration for where I am going with it. It isn't finished, but here is where it stands now:
This room doubles as my office and a craft room because of its large closet.  I have big plans for this room, so stay tuned!
Our Master Bedroom is still a work in progress, but got some help with new curtains and some matching lampshades.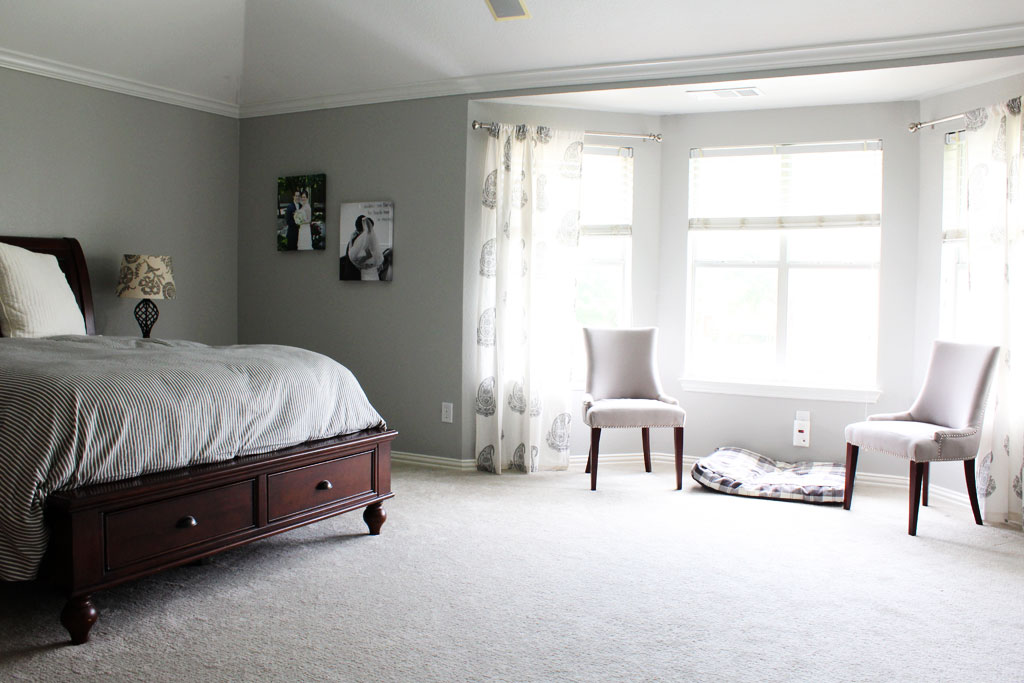 But our master bath is a huge peaceful oasis.  I love this room!!
And our backyard is one of the things that sold this house for us, we added some nice backyard furniture and spruced up the flowers and I plan on spending most of my summer out here: