First of all, Happy St. Patrick's Day to everyone! Secondly I have added another link to the bar above that will take you to all of the weekly pregnancy updates in case you missed one and want to catch up!
It also has a picture of all the photos in one place so that you can see side by side comparisons of how large the bump has gotten! Its crazy for me to see how much it has changed week to week!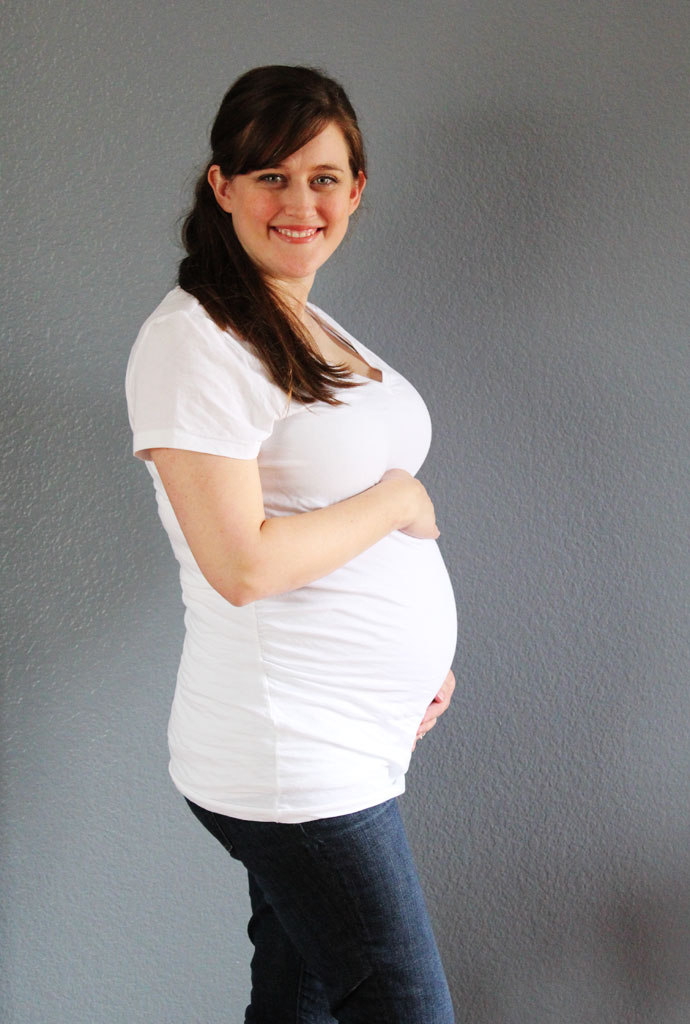 Baby's Size: Baby Girl is the size of a Rutabega.  And since that is definitely not a vegetable I am all that familiar with, lets go with she is about a pound and a half and 9ish inches long.
Baby's Progress: She is gaining a little bit of fat this week (haha… aren't we all).  These next three weeks should also mark her most active phase since she has plenty of room to do somersaults but is also big enough to move around quite a bit!
Weight Gain: I gained 2 lbs this week, so it sounds like all that ice cream eating is catching up.  My doctor's goal is for me to gain a total of about 20 lbs for this whole pregnancy, so for those of you keeping track I should be gaining about 1lb each week for the rest of the pregnancy.  Mostly at this point I'm just trying to eat good for me food and not just fast food and ice cream.  That works about 50% of the time.
Sleep: Sleep is definitely trickier these days.  All the books say that your urge to have to pee all the time subsides in the second trimester and returns in the 3rd, and if this is the subsided version of that urge my third trimester promises to have lots of trips to the potty in the middle of the night.
Milestones: We took our 'prepared childbirth' class at the hospital this week.  And they definitely don't censor any of those videos.  Suffice it to say we now have a mental picture for what birth will look like… whether we really wanted it or not. I am glad we took the class, it was helpful to hear about what the hospital's policies are on most things and get tours of where we will be delivering. Our hospital is the highest level of NICU in our county (and I think in Dallas besides Children's Hospital), which hopefully we won't have to take advantage of, but is nice to know it is there.  We also will have our own room for Labor and Delivery and another one for Postpartum.  It is now starting to sync in that in just over 3 months (if all goes according to plan… and we know how that goes) this little girl will be making her appearance!
Although my favorite time of the class was the 30 minutes where the instructor had the dad's do chair massages to learn how to be helpful, so I got a pretty great back massage from the husband!
Favorite clothing item of the week: I bought this gingham shirt from Gap maternity when I had a coupon for 40% off and I love it! It's actually a pretty thick material so I don't know how practical it will be for summer, but it looks super cute and I have a feeling it will make it into my post baby wardrobe rotation.  (It definitely covers the bump but doesn't look extremely 'maternity')
Symptoms: I've had some pretty rocking headaches this week, but those aren't out of the ordinary for me this time of year (especially with all the crazy weather changes) and sitting in a chair for long periods of time is definitely harder, so i'm having to remember to get up and walk around a bit so that my feet don't swell and my back doesn't hurt.
Workout: I've kept up walking outside when it is nice, and now that the temperature is above 40 degrees I'm going back to my Camp Gladiator class.  I am actually pleasantly surprised by how much I am able to do in the class without getting uncomfortable or doing something I shouldn't be doing this late in pregnancy (i.e. I don't do sit-ups or any laying down ab exercises, and while everyone else gets to do squat jumps I keep both feet firmly on the ground).  But I do feel more energy after working out and am glad I can still keep that up.  My doctor is a huge fan of working out as late as is comfortable in the pregnancy, but I do check in with her at every appointment to ask if its still okay!