No, my grammar nazi friends, I didn't misspell the title, I just painted the wall in Reese's new study navy! Last I left you, the room looked a whole lot like this:
I told you guys in this post that my husband was going back to graduate school in the spring and we decided to do a little change-up upstairs to give him a room of his own to study in. So the goal with this room is definitely to make it more masculine and a calm place that is all him and relaxing for him to use. I bought him a desk that just arrived last week (thank you backorders!) but before we got that arranged in there, we wanted to paint the room! Paint is my favorite (ahem… cheap) way to change the whole feel of a room! After spending a fair amount of time looking at rooms on Pinterest I settled on the sort of rustic industrial look that Reese likes and decided Benjamin Moore's Hale Navy was the right way to go.
Since this room has only one small window painting the whole room would feel a bit cavernous, so we settled on one 'accent' wall.
And this is the point in the story where I really started to feel like this room was NEVER GOING TO BE FINISHED.  Do you ever have projects like that? After I had picked the paint color,  I also ordered this duvet in the gray color to fit the twin bed.  Welllllll it arrived and it was king sized.  Wah wah. So I called to see if I could return it and get the right size, but apparently Pottery Barn had a glitch in their online ordering SKU numbers so everyone who ordered the twin size received King size and the twins were backordered until November. And since there is a HUGE fabric difference in king and twin I decided I'm going to see if I can just alter it to be the right size .
But at least I would have the two Euro size shams and pillows I ordered too right?! WRONG! Apparently those were in wrong too… so I received two Euro pillows and two STANDARD shams… COME ON Pottery Barn!! You are killing me here!!
So I returned the two shams, but kept the pillows and will either make pillow cases out of my extra fabric from the duvet or find some coordinating color/pattern to go with it!
So after all of that, this is what the room looked like: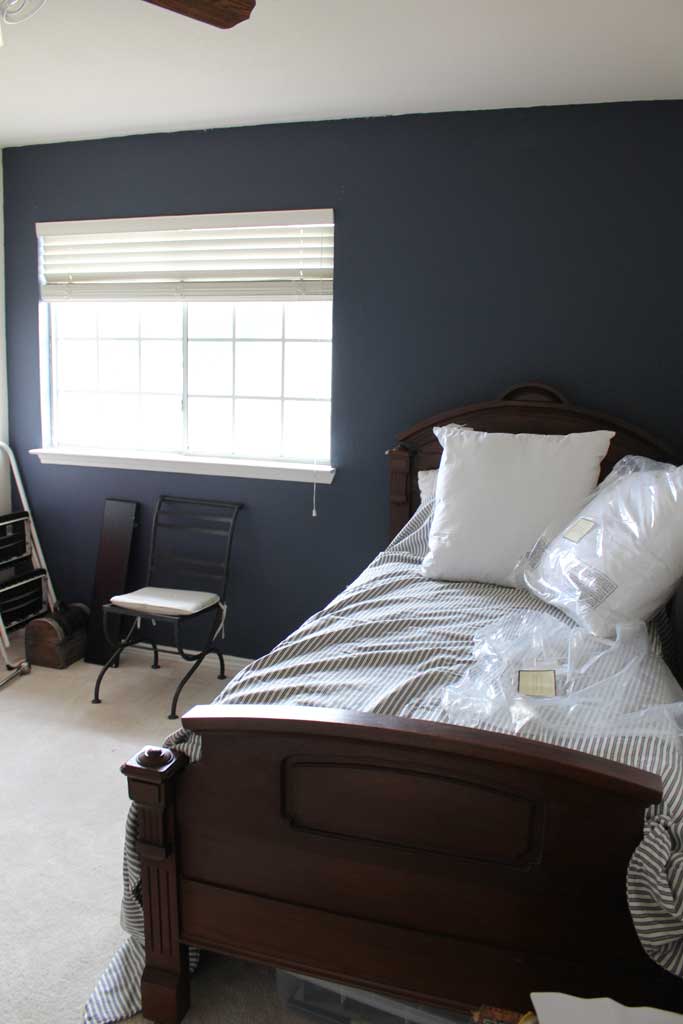 It's looking more manly already, don't you think?