About 2 years ago after July 4th weekend I decided it was time to get a dog.  I lived in a house by myself and thought… what better way to get a little security than to get a big dog??  So I set about to get a chocolate lab, since that's what my family had when I was growing up.  I found a place not too far away from me that had a litter of chocolate lab puppies ready to take home, and went to go pick one out. I fell in love with the runt of the litter because she had these two cute little white spots on the back of her front paws that looked almost like someone had put a thumbprint of white paint onto her chocolate coat.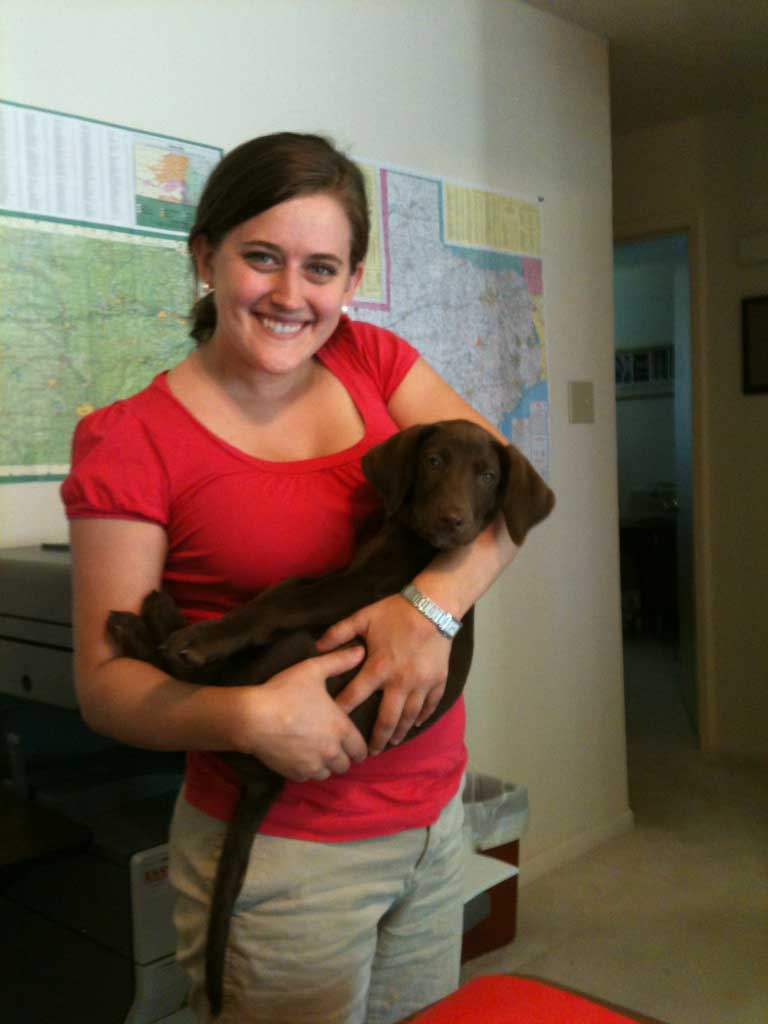 She comes to work with me every day (this post is when she is just about 2.5 months old in my office) and has been my constant companion.  She is a typical lab, friendly energetic and loves people, however she is scared of EVERYTHING.  If the sprinklers go off… she hides under the table, so much for getting a guard dog! But she is intensely loyal and is a big part of my life!

Like any good lab, she gets into everything (although she is almost out of puppy stage and gets in to fewer and fewer things that she is not supposed to).  My first thanksgiving with her, I took her to my parent's house.  They love dogs and were especially missing our recently deceased 16 year old chocolate lab, so they were happy to have her along for the week.  I had to be gone for a few hours and asked if they wanted me to leave her out (and thus be responsible for her) or to put her in her crate while I was gone.  They happily said… oh, we'll watch her, no problem, leave her out! (famous last words)
Lexie then proceeded to steal one of mom's freshly baked loaves of rye bread off the tall counter top and eat the entire thing before they noticed.  The picture below shows her stretched out… clearly pleased with herself… after the aforementioned incident.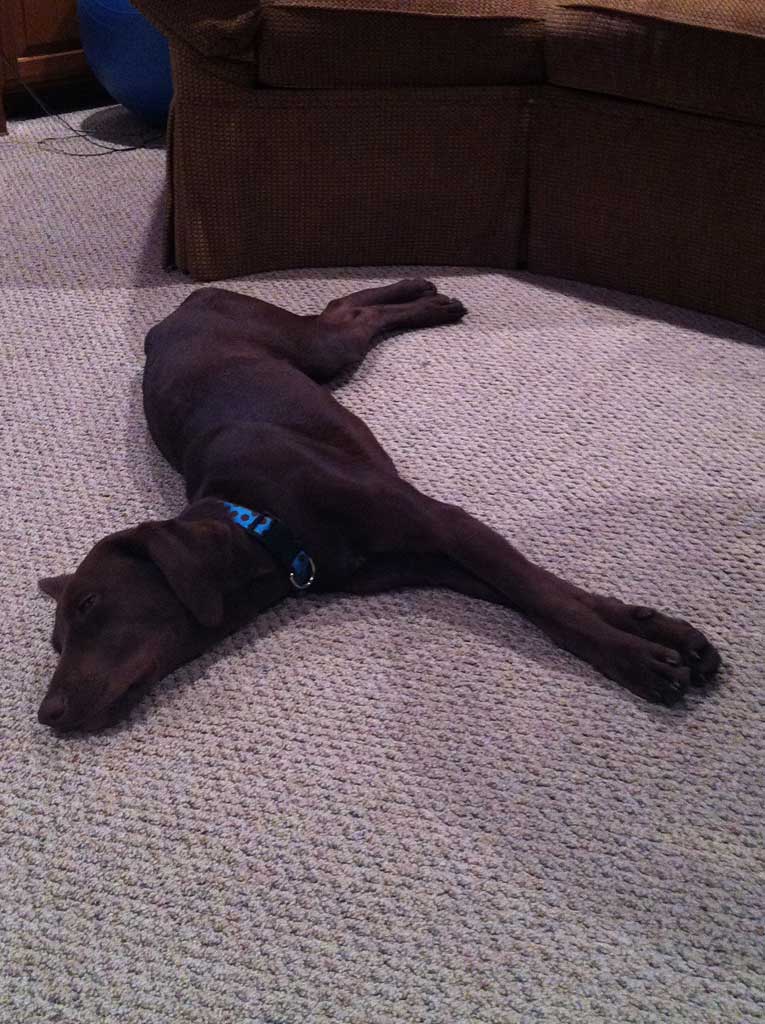 My now husband and I had our semi-first date after a trip down to Whiterock Lake in Dallas with Lexie.  And since we decided to do our engagement photos there, we thought it only appropriate to bring Lex along for a few photos.  Our awesome photographer captured not only how Lexie looks every day:
But managed to capture her mid-yawn which looks a whole lot like I think her personality really is:
She is a great dog, even though she is completely neurotic.  Some say dogs take after their owners… wonder what that says about me?!
Happy two years of living with me Dog Dog!
ps… Dog dog is what the husband calls Lexie 90% of the time… she even answers to it now.
two bottom pictures courtesy of Lauren Guy Photography.