**If  you found your way here by way of IkeaHackers, Welcome!!! Check out some more of my favorite projects on my projects page!
When I moved into my first apartment it was literally less than a mile from IKEA. Since I was a single college grad on a budget, I purchased almost everything I didn't inherit from there.  You just can't beat the clean design and did I mention how cheap it was? On that list was a Lack Coffee Table and a couple of Lack side tables.  Seriously a side table for 9.99? Fast forward a few years and I'm slowly but surely replacing some of the cheaper options with a little sturdier stuff, especially since Lexie had turned my coffee table legs into her chew toy when she was a puppy.  (That was actually part of my logic in getting a dog when I did.  I didn't want her tearing up my nice new furniture, I'd get the dog, then start replacing furniture when she was older… i.e. quit using furniture as teeth sharpeners).
I had my eye on a few tufted ottomans, specifically this one from West Elm:
But coming in around $330 before tax seemed pretty steep for a coffee table.  Especially since the one I was replacing was coming in at $40 bucks. So I googled around and found a few blog tutorials on how to tuft your own ottoman. I sort of merged all the ideas together.  I knew I wanted mine to be thick, so I waited until the 5″ foam batting was on sale at JoAnns. If I remember correctly it was about 75 dollars a yard, and I needed two yards.  I got it for 50% off, so for my two yards it was about 75 dollars.  I already had the upholstery fabric on hand, so I just needed to pick up a little quilt batting, an upholstery needle, upholstery thread, and some buttons I could cover with the fabric. I'd say all together the materials cost me around $100 dollars.  (sorry for the awkward from above angle… but these are surprisingly hard to photograph!)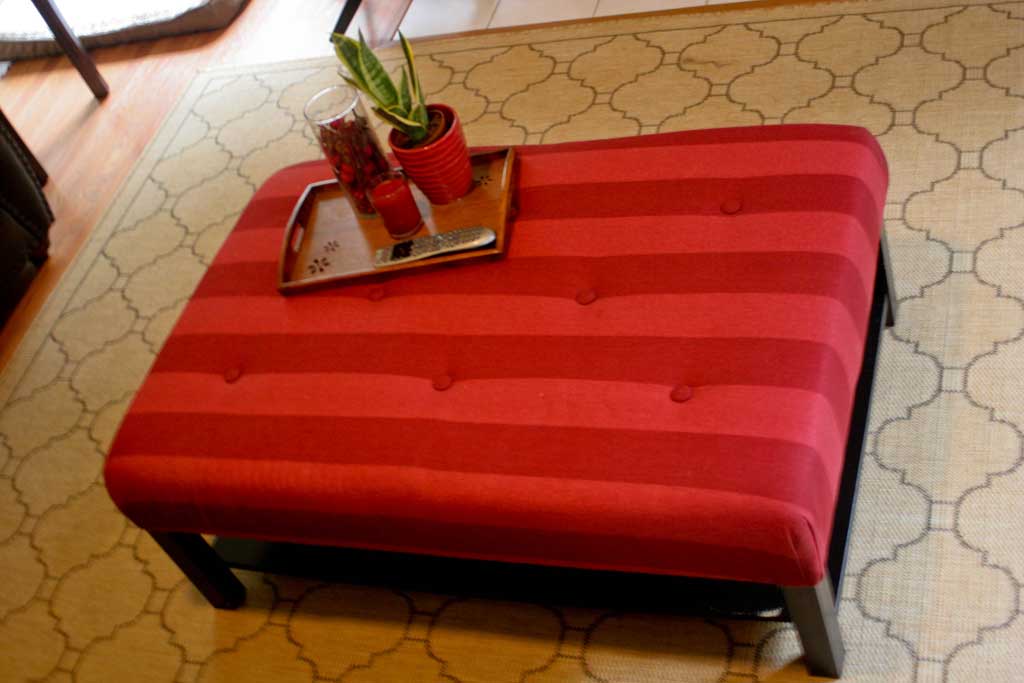 Unfortunately I did all this before I started blogging, but its pretty simple and there are tons of tutorials online, I did similar steps to this tutorial from the DIY Showoff.  I added an extra layer of cotton batting on top of my super thick foam along with the already thicker top of the Lack table made my tufted ottoman have more bulk. I also added the 'tufts' after staple gunning my fabric and cotton batting, which I think makes it a little tighter of a fit.
Since this made my coffee table disproportionately taller than my couch I took the table legs out to the garage and cut about 4″ off the bottom so that it would rest closer to the ground.  But fortunately the shelf still sits about 1″ off the ground, so I can still store my beloved blankets for tv watching in the baskets below.
And voila, I had a beautiful tufted ottoman!