Y'all!! After an exhausting weekend of moving… seriously I hate moving… we are in the new house!!! I'll write a later post about the process… but let's get to the things you really want to see: pictures of the new house!
I snapped these photos on Saturday morning while waiting for the security system guy to do his thing, but AFTER we had all the carpet in the house replaced. I'll talk more about that later, but let me just say this: worth EVERY penny.  The carpets in the house had clearly been well used and getting this done while we had no furniture in the house was the way to go.  The guys (Signature Flooring for all you Dallas-ites looking for a good company) were great and got the whole house done in one day.
But without further ado:
Right as you walk in the front door there is a very long room that is the formal living/dining room
Right now it has a mirror covering half of the far wall (which until I buy a full length mirror was the only way I saw my whole outfit on Sunday, picture me standing on a chair surrounded by boxes and you'll get the picture) This room is very long, and a bit awkward, but we will see what it looks like when I get all the moving boxes out.  Since I don't really have any formal living furniture this will mostly just replace our formal dining room + the piano (much to the piano mover's relief it wasn't going back upstairs).  We really think this room needs a grand piano, but since we don't have that kind of dough to throw around we will be satisfied with our upright piano for the time being.
From here you go through an archway just to the right of that mirror and go into our kitchen/breakfast area/living room.
Its kind of hard to tell from these pictures, but the dining room that is at the front of the house is through the archway on the left, I was standing in the living room taking this photo and the breakfast area (which is shown in the next picture) is to the right… along with the door to the backyard and our new pool!
You can kind of see in the picture above that the laundry room is just off the kitchen/breakfast area.  Which will be a change from having it upstairs, so we will see if I like it better or not!)
Ignore the random things that I brought over from the old house, they were mostly things left that I didn't want to have to pack into boxes or cleaning things I thought we would need!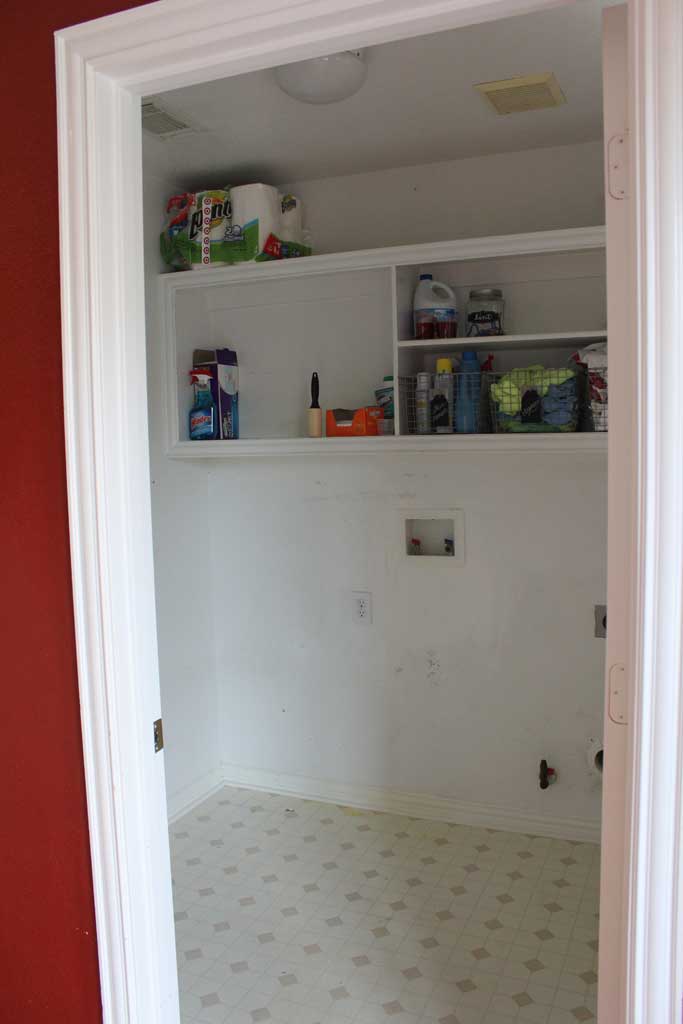 From there if you turn around, the living room is connected to the kitchen/breakfast area, making it one nice large room that feels very open. This room is slightly larger than our last living room, but laid out very similarly.
The previous owners clearly had a very nice speaker system installed all over the house, there are built in speakers in almost every part of the house, including outside. And a MASSIVE amount of wires that go with it.  Husband and I are definitely going to have to seek out some help from a friend to get that all set up and going, but I'm looking forward to having music all over! (and bonus… someone was nice enough to label what each cord goes to… YES!)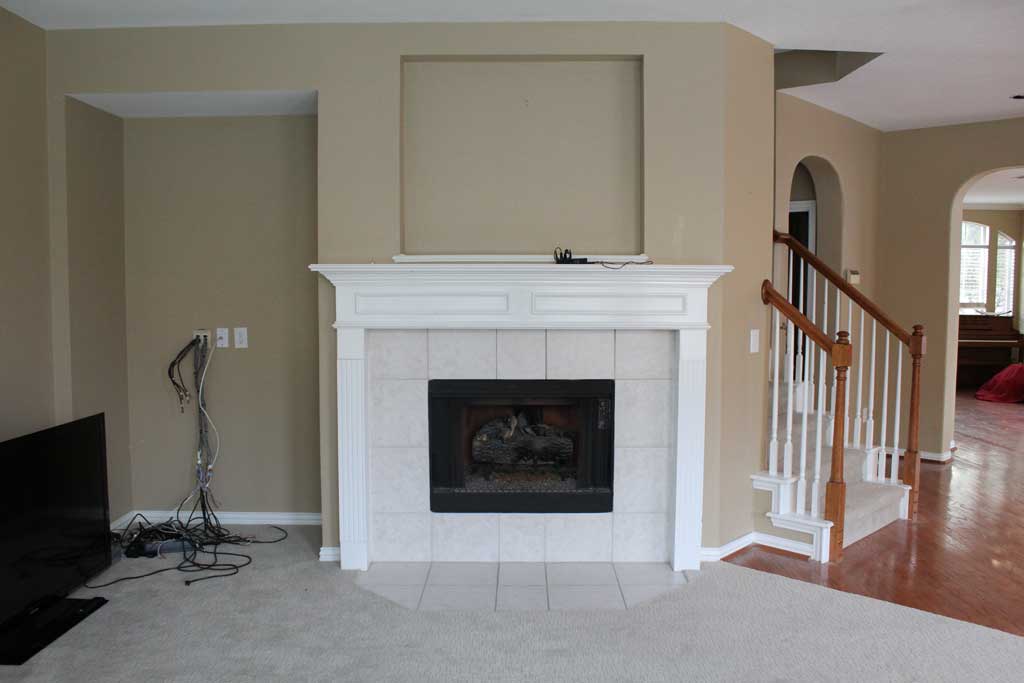 So in the picture above you can kind of see the stairs that lead to upstairs (you know… where stairs normally go), the hallway on the left which leads to a downstairs guest room and full bathroom, and the archway to the right which leads to the formal dining room, just to give you some bearings.
The last room downstairs is a guest room and full bath.  Since this will be the bathroom most of our guests use and used for pool guests and changing, we will be changing out most of the wood floors for tile in this part of the house. The wood (I think actually laminate) has definitely seen better days, and since we expect to have youth and kids running through the house wet, we think tile is a better decision for in here. I'll keep you posted.  But have no fear, we will be leaving the wood floors in the front dining room.
The good news for you guys is… I get to learn how to strip wallpaper.  The bad news for me is… I have to learn how to strip wallpaper.  Be grateful that I spared your eyes the maroon curtain/valence that went over the shower. You're welcome.
The guest room is still evolving but for now it will have the same white desk and bed that were in my previous guest room. Currently it looks like this:
Once you get upstairs, we have another 'bonus room' landing area:
That door on the left is magic… but i'll tell you more about that later.  From here the bedroom on the right is the master (you can just barely see the door frame), straight ahead is our 4th bedroom, and to the left down the hall is another bath and the other bedroom.
The master bedroom is E-NORMOUS, when I get pictures of our furniture in, you'll be able to see some scale, but it is a golden brown color that matches nothing I own, so this will be one of the first rooms painted.
Through the double doors on your right is our master bathroom, which I'm pretty sure is larger than the my bedroom was in my first apartment.  I don't love that they painted the trim in the whole room a dark chocolate brown, but since stripping that off and repainting them white gives me hives I'm trying to think of a creative way of incorporating the brown into something I like. Any and all suggestions welcome.
Back out of the master bedroom and down the hallway are the other two bedrooms.  One is very very blue, don't worry it won't be staying this color… this picture doesn't do it justice… it is ELECTRIFYING. Although not nearly as bad as the lime green highlighter color in our first house.
The bathroom looks eerily similar to the upstairs bath from our last house, and is your definition of builder basic (sorry for the grainy pic… it was really dark in there).
And the last bedroom will end up being Reese's study.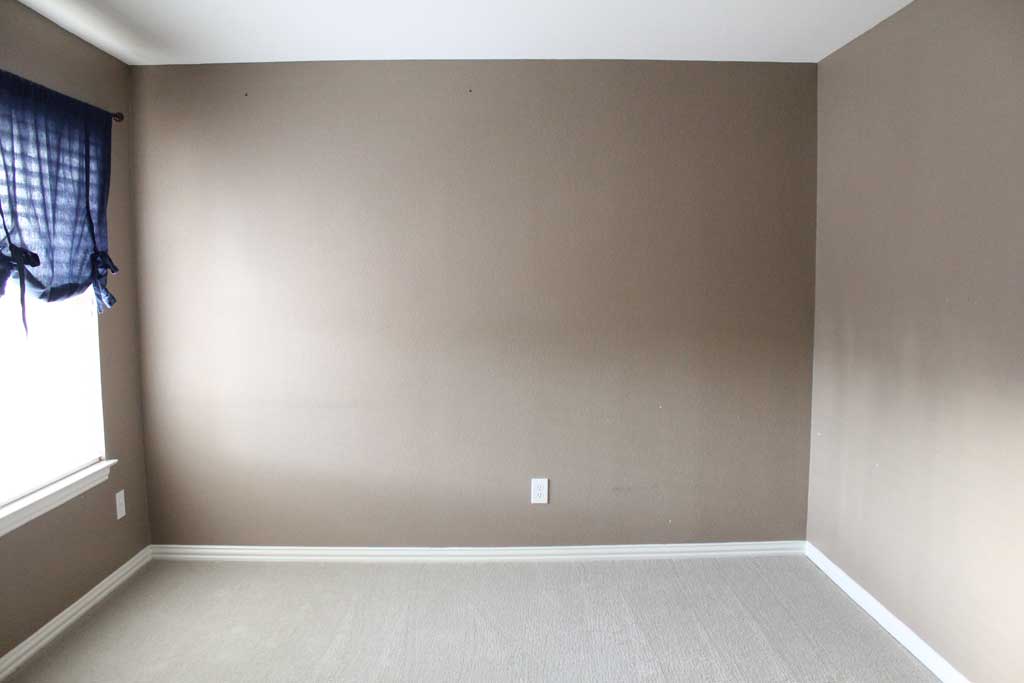 But my favorite part of this room? I GET A CRAFT CLOSET! WITH A WINDOW!  I have no idea why this 3rd bedroom has a GINORMOUS closet (for a not so ginormous room) but I'll take it! It is definitely big enough to put a desk for my sewing machine and build in some AWESOME shelving to house my fabric, paper and crafty things.  And best of all? I don't have to clean up my project when I am done.  Score one for MJ! Of course it is virtually impossible to take good pictures of closets like this, but just trust me… its going to be fantastic.
And that concludes this tour.
I realize as I get to the end of this post that I didn't include any outdoor pictures.  Oooops. And I'm travelling for work this week which makes it very hard to pop outside and snap a few photos… so you'll have to come back later to see the pictures of the pool and the front of the house!