As is tradition, the night before the wedding we had a rehearsal dinner. In my family we like to include as many people as possible, so our rehearsal dinner was about 75 people: mostly family and out of town guests.
Reese and I had just started looking for a place to host our rehearsal dinner when I drug him along to a Bridal Show at the Dallas Convention Center.  If you've never been to one of these, it can be HUGELY overwhelming… tons of vendors all trying to sell you what they've got. I will say though, about 75% of our vendors we ended up using came from the bridal show, so I guess it was worth it.  And BONUS Reese won a push-up contest while we were there.
Anyway, one of our favorite restaurants in downtown Plano, a pizza place called Urban Crust, was there handing out their flyers for their event space called Rooftop.  It is a perfect reception location on (you guessed it) the rooftop of a building in downtown Plano.  They serve delicious pizza and pasta from Urban Crust or mexican food from their sister restaurant Urban Rio.  Its a gorgeous loft type room and their employees were awesome to work with plus the food was DE-LI-CIOUS.
The room has this gorgeous wall of windows and a patio where you can watch the sunset. See my brother and his girlfriend (and their ridiculous photo-genetic-ness) posing on the patio?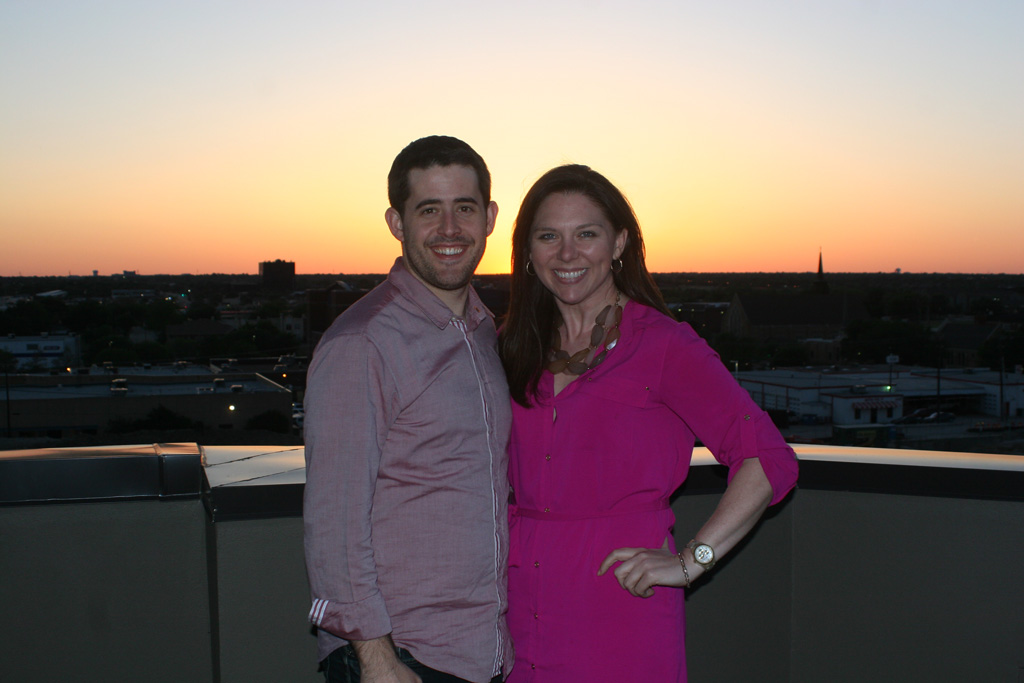 My mother has an incredible talent for flower arranging so she (with some assistance from a great friend) put together these flower arrangements for the tables and the hallway as you walk in.  She usually finds a wholesale florist she can order from and she has superb talent when putting these together.  We wanted them to be a splash of color for the room since it is primarily black.  The burlap rosettes were a crate and barrel find earlier this year.  I think they are napkin rings? But we tied them up with lace and burlap and tied them around 3 mason jars to make each centerpiece.
Then for the welcome table we just used the larger size of jars with lace or burlap tied around it.  The engagement pictures were framed from one of my showers and made the perfect accent as you walked in the room!
I love the way these flowers turned out, they were so perfect for the space and atmosphere of our rehearsal dinner!
And one last picture from our rehearsal dinner that I love and makes me laugh.  This is a group of groomsmen and ushers that look like they are getting ready to stir up some trouble… and their ringleader? My esteemed brother-in-law (he's the one in the aviators). 
Want to see the other parts of our wedding? Check them out here: