So last I left you guys, we had just painted the study navy and I explained some of the delays behind the fact that I have been working on this room for 2+months and am still nowhere near finished.  The other piece of that was the desk.
I ordered this desk for my husband for his birthday at the beginning of July. and it arrived last week. It kept getting backordered and delayed, which was frustrating, but since I ended up spending the bulk of that time travelling for work, it all ended up okay.  And the giant box sitting in my foyer was pretty good motivation to get my butt in gear and work on the study when I came home!
So the husband and I spent Saturday putting the desk together and getting a few more accessories for the room!
For $500 it is a great desk for the price! It was super easy to put together, feels solid and sturdy, and doesn't overwhelm the room.  (This is not a very large room, so wouldn't be able to accommodate a huge wooden desk and a bed. And since I love the bed so much (and find it useful to have 2 guestrooms), this was the direction we went.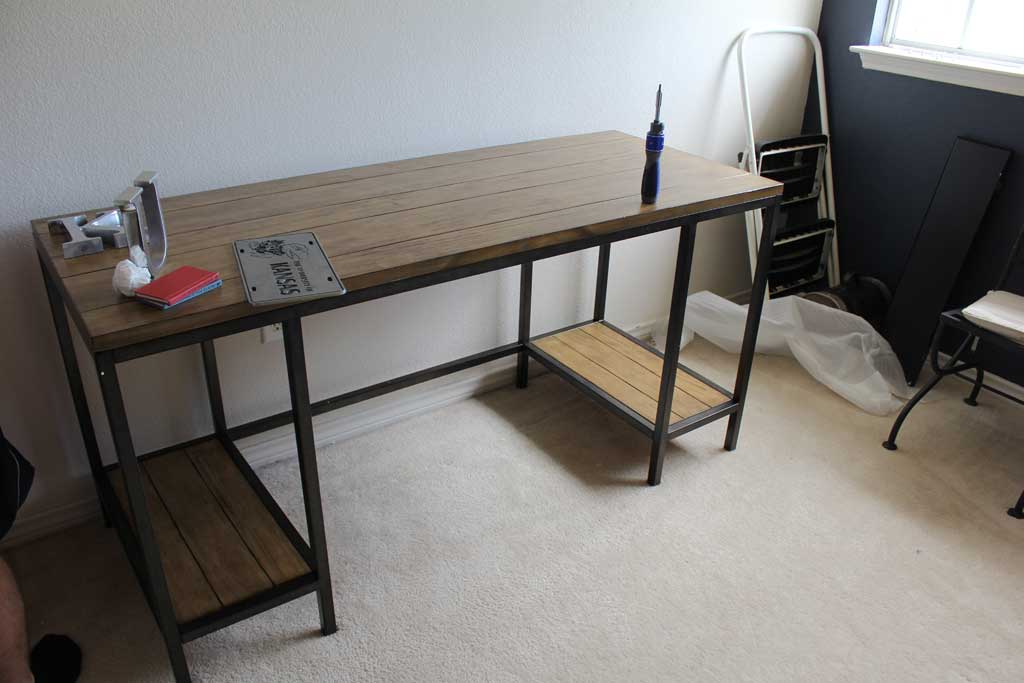 We have intentions to hang shelving on either side of the desk, and he has artwork that he had as a kid that he would really like to hang above the desk, but I very much disliked the gold frame it was in, so we are in the process of getting it reframed.  Eventually we will also add a gunsafe in the corner to house my husbands hunting rifles (one of our concessions to his affinity to go shooting and my dislike of having guns in the house).
On the other side of the room we added drapes and a side table and an amperstand pillow that somehow leaped into the cart at the last second at Hobby Lobby.  I hate when that happens.  (no… actually I not so secretly love when that happens)
The drapes are these from Pottery Barn. Normally I only buy things at Pottery Barn when I have gift cards from my credit card points because seriously who has the money to pay that much for everything?! But I loved these curtains and they coordinated well with the bedspread. And they were 15% off this weekend, so I bit the bullet and paid for them.  We did hang the rod down about 6 inches because one of the things left on our to do list for this room is to install crown molding, but since I've only done that once and it was one of the more frustrating events of my life, I'm not too excited about jumping back onto that wagon. (the experience had my twin brother and I staring at each other saying: we have multiple masters degrees between us… how on earth is this too hard for us?? Well I'm not sure how, but I am sure it is too hard.
Our to do list left for this room is:
crown molding
tailor the bedspread to fit a twin size
find pillow cases for Euro covers
frame and hang picture for over desk
frame and hang diplomas for blank wall
hang bookshelves
Easy peasy! 😉