So I told you guys last week about my major garden fail so I thought I'd show you the part of the backyard that looks AWESOME, although to be honest, very little of it has anything to do with me.  For our wedding last May we were going to host the Bridesmaid's Luncheon in my backyard. But my backyard left a LOT to be desired.  When I moved in there was ONE plant in my backyard. Not one flower bed- one plant.  Which you can see in the picture below.  (I added the potted plants and my dad planted the roses two years ago).  The one plant that was there at move in is the tiny little desert looking plant hiding behind the air conditioner.
My grass still leaves a lot to be desired (although it looks pretty good in the picture above not long after move-in… so probably the problem is me!), but I wanted to add some landscaping in to add a little extra va va voom.  I found a local landscaping guy that a friend recommended and hired him to do a little work.  I sent him a few photos, he drew up a plan, and for a very reasonable amount of money he came out with all the plants, edging, and mulch to improve 2 different parts of my lawn.  I wanted him to focus on the back corner (which is under my neighbor's tree and couldn't grown any grass)
And the part right by the air conditioner where the lone plant in the backyard was, which I had let weeds grow over after my zinnias died last fall.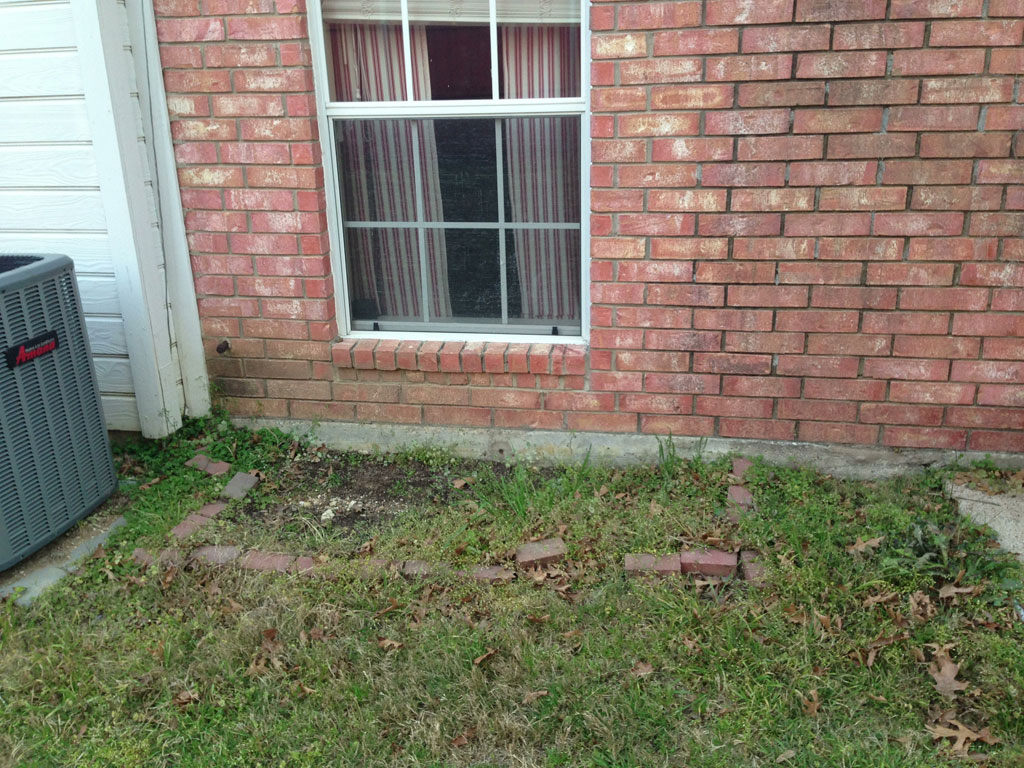 I wanted something a little more permanent and something I didn't have to worry about hand watering all the time.  Fortunately the landscaping guy (for anyone who is curious it was Timberline Lawn and Landscape) who came out to do the work also rigged up my existing sprinkler system to water how it needed to be watered.  Here is what it looked like right after he left:
Check out how awesome they looked after he came and spruced them up!! And I'm happy to report that despite the interminable July in Texas heat… those areas still look pretty great! Here is what they look like today:
For the most part they look pretty great despite the heat! (I may lose the Oak Leaf Hydrangea in the top pic.  And just for a fun comparison (you'll have to scroll back up to the very first picture) the roses I planted myself my dad planted in 100+ heat two years ago are clearly thriving! They are a little sunbleached, and I'll have to show you what they look like in the spring, but man oh man are they beautiful.  They truly live up to their 'knockout roses' name.