This week my small group of friends decided to have a murder mystery dinner party.  Cheesy… yes, but hysterical.  On more than one occasion during the evening I was laughing so hard I couldn't breathe! Our group consists of 7 couples, all at a fairly similar stage of life and we are each other's support network, friends, and confidants.  I'm not sure where my life would be right now without them!! Someone came up with this idea and our group sort of ran with the idea… The theme for the party was Spaghetti Western–the murder mystery piece was pre-packaged, which one of the girls bought online and we served spaghetti and meatballs for dinner (hence spaghetti western).  My contribution was the house to host the party, so I decided we needed a bit of decoration for the tables.
As I was throwing together the decorations for the party it occurred to me that my mom (and aunts and grandmother) all taught me important things about how to decorate a table well that might be useful to share on the blog! These tables were decorated for a specific theme, but many of the 'tricks' of how to do it are the same no matter what you are decorating with.
For this party I used two tables- my kitchen table which we moved into the dining room and our dining table.
1. Always decorate in odd numbers: I'm not sure why this works, but there is something visually appealing about odd numbered groupings rather than even numbered groupings.  So I almost always use 3 vases, 5 candles, and so on and so forth.  Like you can see in the picture below–the two mason jars plus the cake stand make 3 and visually balance out the table.  There are also 5 mini mason jars with tea lights in them spread around the table.
2. Add some varying heights: My mother is notorious for draping various items in fabric just to give one part of the decor a height boost.  For these tables I used the lace cake stand above and the white cake stand below.  In fact, I'm not sure the cake stand in the photo below has ever actually had a cake on it… I use it much more often to decorate a table or a vignette.
3.  Add some texture: For this rustic vibe I love using various burlap items- We purchased the burlap below for our rehearsal dinner tables (I'm pretty sure we just bought it as fabric off the roll at Hobby Lobby and cut into squares), and I have used them countless times for many different parties because they add great texture.  For this table I snagged the rope from Michaels for $5.  It was an easy addition and definitely made the tables a lot more 'western'.  If you are doing a fancier table texture can be brought in via silk cloth, different types of ribbon, or flowers.   Which brings me to my next point: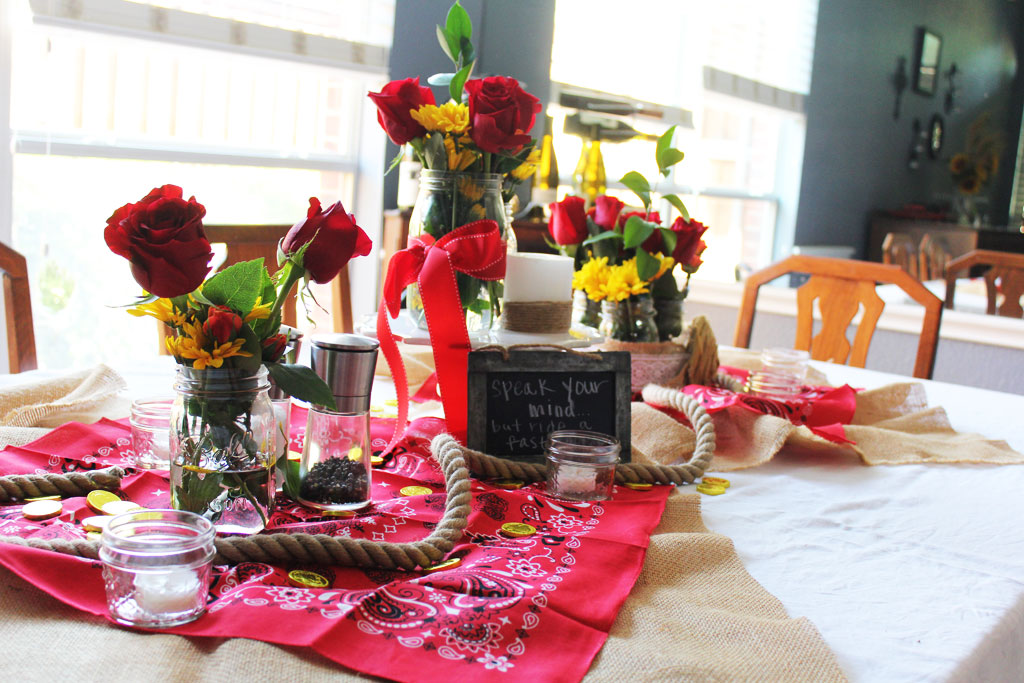 4. Flowers: almost nothing adds some va-va-voom to a table quite like fresh flowers. They definitely aren't the cheapest option for sprucing up a table, but man do they bring the wow factor.  I love buying just a couple of bunches of whatever my grocery store is selling in the right color scheme and then splitting them up into little vases or jars like these to set around.  Funny enough, the same 'design' techniques that I use for tables holds fairly true for flower arrangements too: varying heights, odd numbers and texture (i.e. a little greenery or different types of flowers) make for an appealing arrangement!
5. Have fun with it! Especially if you are doing a theme, it never hurts to go all out.  I searched Pinterest to find some cheeky cowboy sayings to add some fun flair to the table.  The gold coins were a fun addition (not to mention delicious to enjoy during the party) that really sold the western theme.
All in all I spent about $30 dollars to buy things for this table (and more than half of that was in fresh flowers!), most of the things I had on hand and can be used for various other table/house decorations.  And our guests came over at 6:30 and I got home from work around 5:30, so not too shabby for an hour of time and not much money… plus it was fun to have such a festive setting for our mystery drama!