Alright you guys… I never know when the right time to show the new house is… I mean, I feel like it is so far from being 'guest ready' but I also want you guys to see it ASAP!
In true confession, I could have shown you guys the real estate listing photos, but the previous owner had a professional decorator, no kids and no pets, so mine looks pretty 'lived in' compared to that, so I'm just going to be selfish and not show them to you guys!! 🙂  We have been in for almost a month, but since then we have taken 3 out of state trips… so its taken a little while to get settled at all.  And we are far from settled, but after a seriously productive weekend… we are feeling like the end is in sight.
We have moved to Kansas, so houses are sort of flipped from the Texas versions… instead of attics, there are basements, and most houses don't have large second stories because of all the square footage below ground! So in this house almost all of our every day living space is upstairs and our entertaining/storage/extra space is down in the basement.  When I met my husband, being the good Texas boy he was, he had never even been in a basement before… and now we have one of our very own, lucky him!
Anyway, without further ado, the upstairs of our house.  Right when you walk in the front door you have the living room. Right now this has our upholstered ottoman, but we may not have space for it once we add in the two chairs that need to be reupholstered.  When my mother in law downsized her home, she gave us two upholstered wingback chairs that need to be recovered and will be a perfect addition to either side of our fireplace (where the director's chair is right now).  This rug was a $300 dollar score from Homegoods the week before I moved… talk about perfect timing! I think it looks great in here!
The living room, kitchen and dining room are all one big connected room.  I love being able to watch Taylor play from the kitchen and have people sitting at the bar while I'm cooking.  PS I do plan on writing something on that chalkboard eventually… but you know short little me… that requires a ladder and some dedicated time.  So you know, it'll happen once upon a never. I'm thinking that I may phase the red accents out of this room after we get the upholstered chairs in and put a smaller coffee table/ottoman there. I'm thinking blue greys will look good with the rug, so I'll be on the hunt for some great pillows to go on the couch.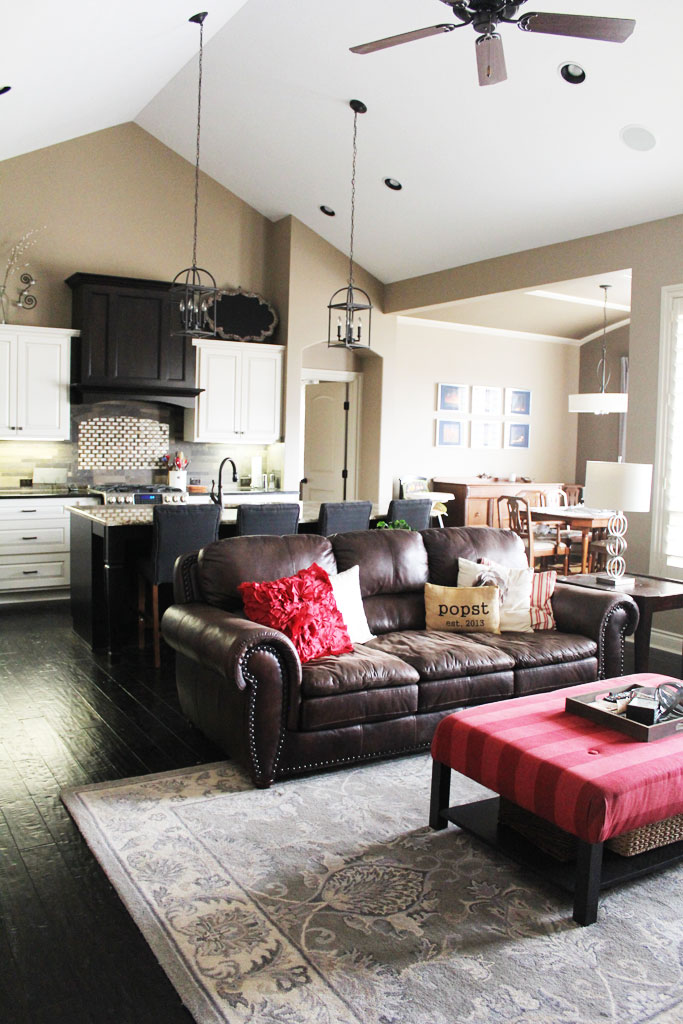 The dining room has a great barrel ceiling (according to the real estate listing… who even knew what those were called!?!?), but I love the architectural detail. For now we have my grandmother's dining set in there and will live with it to see if it doesn't get banged up too much with a little one.  I love the table and think it is a beautiful set, but I hate to have it ruined with a soon to be toddler on the loose.
The double set of doors leads out to a covered deck that has great sunset views and I can imagine will be the perfect place to relax with a glass of wine all spring and most of summer (but also needs a pressure washing in the WORST way… Thank you Kansas wind and nearby construction!)
This house also has an EXCELLENT walk in pantry.  The plus side of being organized in the last house? It didn't take long to get things like this settled in and put away.
Our master bedroom is not the GIANT room it was in the last house, but is a perfect size room for us just off the kitchen.  It also has a great view into the backyard for lots of natural light.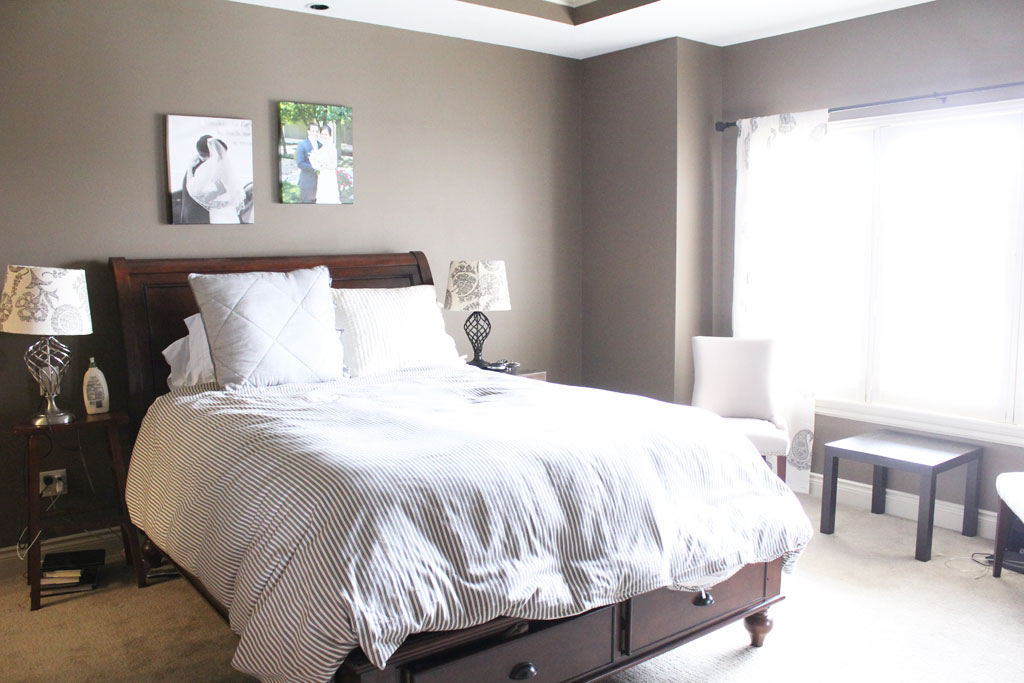 One of the things I love about this house are all the little extras… like a heated tile floor and plantation shutters.  The guy who built this (not that long ago) thought of EVERYTHING and did a great job picking out finishes and tiles.  Our master bedroom has his and her sinks (you can only see his in the picture… mine is too dirty to photograph!)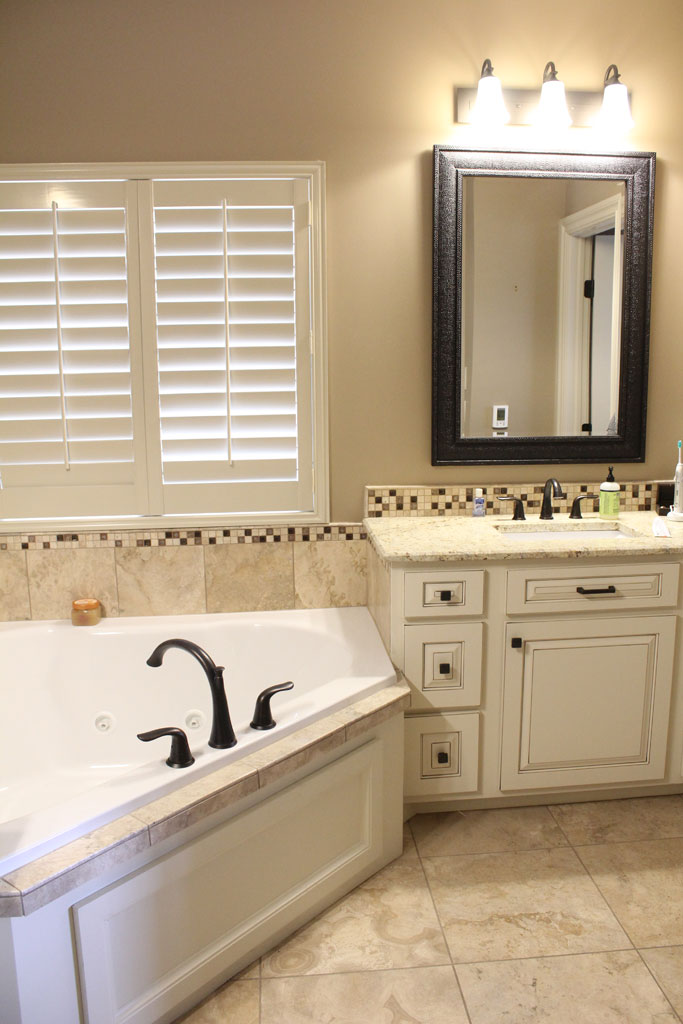 Then we have this funny little hallway of our shower and linen closet, master closet (that extends off to the right of this picture) and the laundry room which connects back to the garage hallway and the pantry (which is behind the far, closed door) making a circle back to the kitchen/living room area.  Its a great little area and so far having the master closet so close to the laundry room is AMAZING.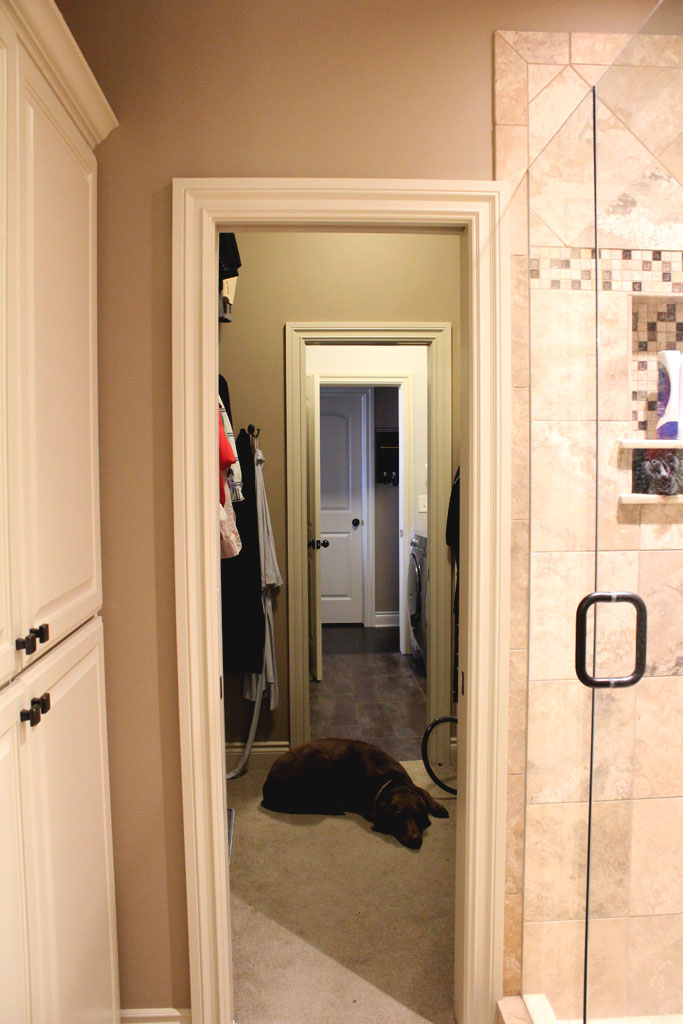 We also have a little half bath for guests that has a really cool sink! (don't mind me in the pic!)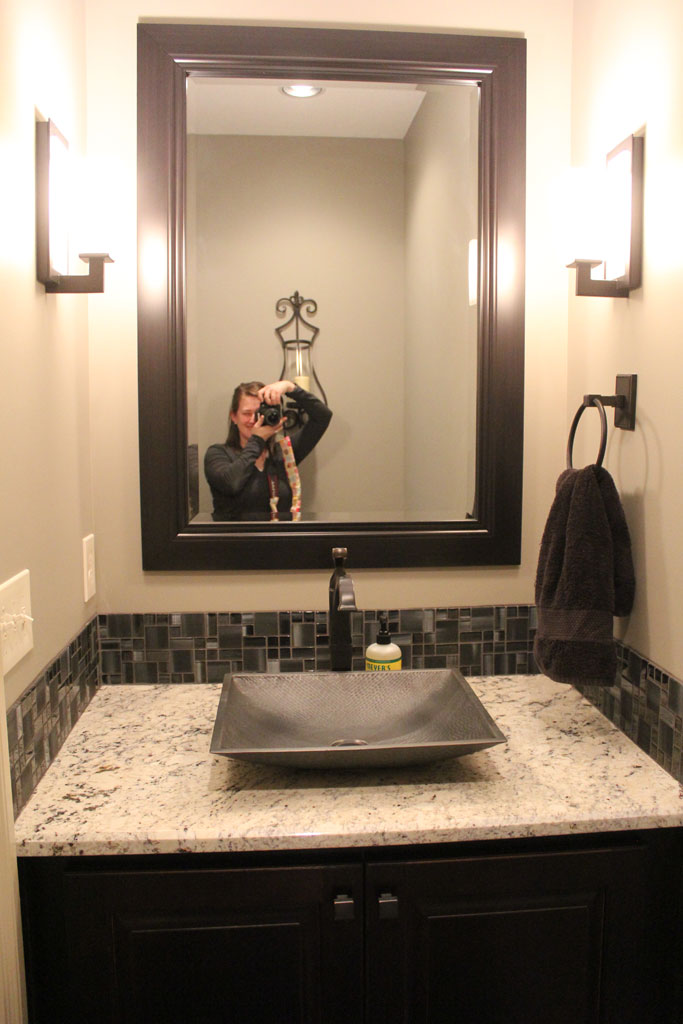 Also not pictured on the main floor are the guest room and Taylor's room.  Taylor's room is done, but she was napping when I got the chance to take all these photos… and the guest room has no photos because it is a DISASTER area.  I promise I'll show you that soon!
And check back tomorrow for Taylor's 8 month update… just a week late!