Okay this is the last one of the wedding weekend recaps from last weekend! Being the grooms side of the family, we were in charge of the rehearsal dinner.  And because it is Texas, we decided fabulous Tex Mex needed to be on the menu.  In Waco, good Tex Mex means Ninfa's.  So we rented out their back room for the evening and it was the perfect place to host the rehearsal dinner!
We decided to keep with the theme and have an all out fiesta! I whipped up an invite in photoshop, with lots of fun colors and had it printed at Mpix (they are by far my favorite online printing location– they do a great job, super fast and not outrageously expensive) Want to see?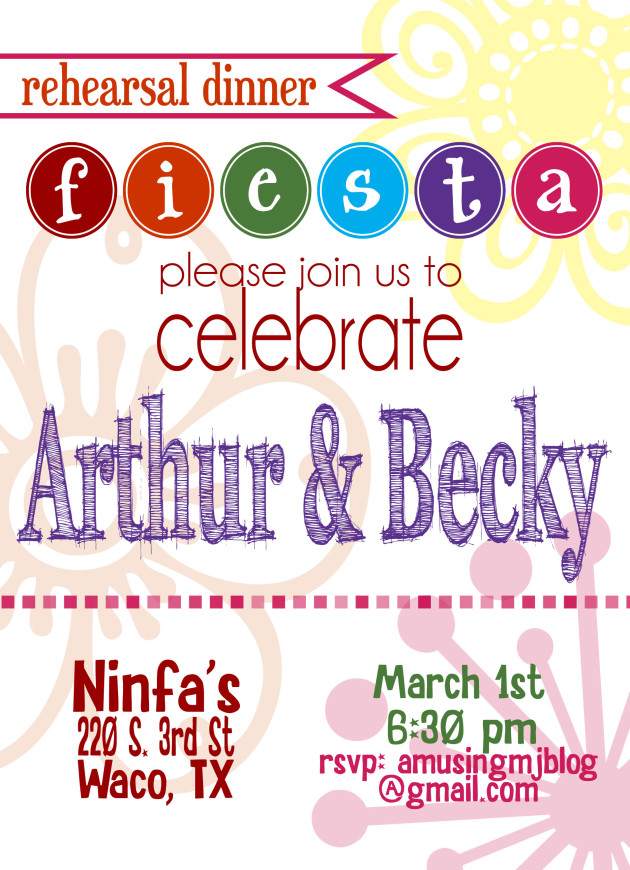 I always have Mpix round the corners when they are printed because I think it looks a bit more professional!
Anyway, for decoration we decided black table cloths with Mexican blankets (Sarapis) in the middle would be a perfect compliment to an array of colorful flowers. And just to add a bit more personal touch, we added some 4×4 pictures printed and then mounted onto black poster board.
My mom is a master flower arranger, so she always likes to buy flowers from a wholesale market and do the arranging herself.  She did them for my rehearsal dinner as well (check that out here).   Mom and I did all the arranging in glass jars from World Market like these in multiple colors.  We used the medium and small sizes for flowers and picked up the little tea light holders from there as well, but i'm not sure they are selling those anymore.
Each table had one large and one small flower arrangement, as well as several tea lights and a few pictures.
The flowers were GORGEOUS and really brought a lot of color into the room!
For entertainment I made a slideshow of pictures from their childhood and courtship, and then there were several toasts.   My husband is very lucky that I didn't get a picture of his toast, since my mother somehow convinced him to don a sombrero and sing a song she had written Becky and Arturo to the tune of De Colores.  I'd link to a version of the song, but I just now got it out of my head and can't bear the thought of putting it back in there!
It was a wonderful night that really captured Becky and Arthur's fun personalities.  It is very clearly evident that they have fabulous friends and family who love them dearly.  It was awesome to be able to be a part of that!!!
Speaking of fun, I found myself realizing that attending your twin's wedding is almost as fun as your own… they are almost all the same people from your wedding, but with none of the responsibility for events! I got to catch up with lots of great friends and family, including some neighbors of ours from when I was in high school that I don't get to see often enough! Reagan is one of my favorites and it is such a treat to see her all grown up…
I started babysitting her when she was born… which makes me feel old! But enough about me… this weekend was all about two of my favorite people:
And that was the evening! I'm so happy for them… and jealous that they are still enjoying their beach vacation!
Thanks for hanging in there for all the wedding posts… I'll be posting more projects this week I promise!