It has been one of those crazy weeks where I have done a little of this and a little of that and accomplished NOTHING.  But I didn't want to leave the old blog hanging so I thought I would catch up on a couple more wedding posts.  If you missed the previous ones and are interested… start here. I started this blog a few months after we got married, but one of my reasons for starting it was to have a place to store all the details of projects I do around the house and life in general.  One of the things I want to document was our wedding.  I loved some of the details we did and thought I would share.  Today… welcome baskets.
I think some wedding trends are goofy, but as a guest, one of the ones I most appreciate is a welcome basket in the hotel room for out of town guests.  I think it is a GREAT way to communicate information to people unfamiliar with the area and who are invited to multiple events over the weekend.  Plus who doesn't appreciate a few snacks and bottles of water!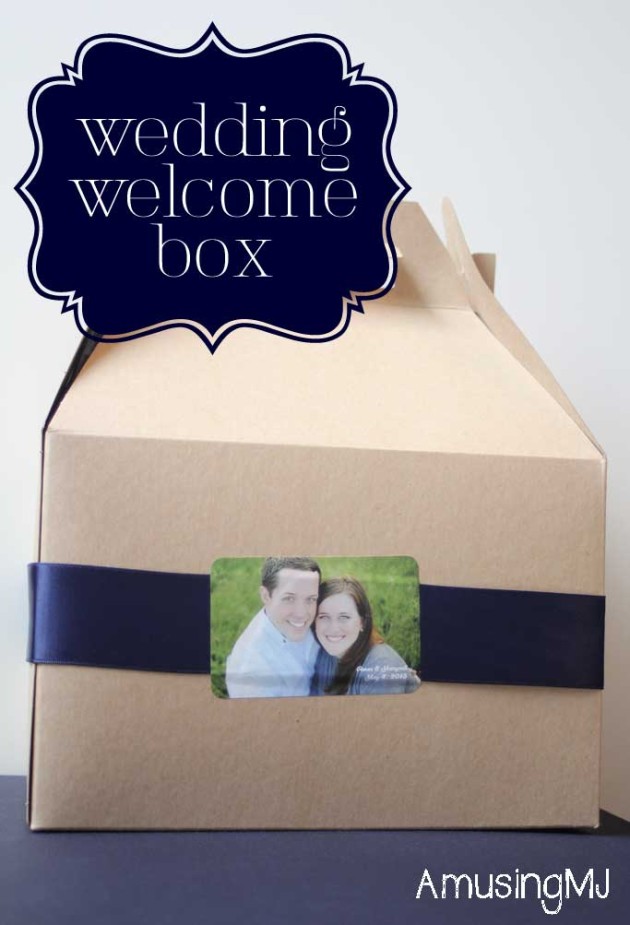 For our actual boxes we used brown kraft gable boxes (our wedding colors were navy and white) wrapped with Navy ribbon and secured with a sticker I had printed at Moo. The stickers weren't very expensive (I think you can get 20 for 17$) and we ended up using them in a few different places for the wedding weekend.  It was a great way to make them a little more personalized!
Inside the boxes we had some of our favorite things:
2 bottles of water
Goldfish snack packs
100 Calorie Cinnamon Almond packs (ps… if you haven't tried these… they are AMAZING)
M&Ms
Werther's Original
Sunscreen– because its Texas in the summer
An envelope with Directions
An envelope with Helpful Info
For our Directions Envelope I wanted it to be something our guests could pick up and put in their car for the weekend, so they would always have the directions for where they need to go. Since all of our hotel guests were invited to every event, it had directions to the church, rehearsal dinner, and reception.
And just for fun in the directions envelope we included a card that had funny driving directions for Dallas.  I originally saw this in an email forward, but it has made its way around the internet, and I unfortunately don't have an original source.  I took only the ones that I thought were funny or particularly relevant to my guests.  Here is the text of what was on the card (but the actual card matched the format of the cards above.
And now… Its only funny because its true…

Tips for Driving in Dallas (AS STOLEN FROM THE INTERWEBS)

Next, if your Map is more than a few weeks old, throw it out and buy a new one. If in Denton County and your Map is one day old, then it is already obsolete.

Forget the traffic rules you learned elsewhere. Dallas has its own version of traffic rules…"Hold on and pray". There is no such thing as a dangerous high-speed chase in Dallas. We all drive like that.

The morning rush hour is from 6 to 10. The evening rush hour is from 3 to 7. Friday's rush hour starts Thursday morning.

If you actually stop at a yellow light, you will be rear-ended, cussed out and possibly shot.

When you are the first one on the starting line, count to five when the light turns green before going to avoid crashing with all the drivers running the red light in cross-traffic.

Construction on Central Expressway is a way of life and a permanent form of entertainment. We had so much fun with that we have added George Bush Freeway and the High Five to the mix.

All unexplained sights are explained by the phrase, "Oh, we're in Fort Worth!"

If someone actually has their turn signal on, it is probably a factory defect.

Car horns are actually "Road Rage" indicators, and remember, it is legal to be armed in Texas.

All old ladies with blue hair in Mercedes have the right of way. Period.

A trip across town (east to west) will take a minimum of four hours, although many north/south freeways have unposted minimum speeds of 75.

The minimum acceptable speed on the Dallas North Toll Road is 85. Anything less is considered downright sissy.

It is possible to be driving WEST in the NORTH-bound lane of EAST NORTHWEST Highway. Don't let this confuse you.

The North Dallas Tollway is our daily version of NASCAR. It also ends in Sherman.

Any amusement parks, stadiums, arenas, race tracks, airports, etc. are conveniently located as far away from EVERYTHING as possible so as to allow for ample parking on grassy areas.
For our Helpful information envelope I had 3 things: Schedule for the weekend, things to do at Shops of Legacy (where our hotel was located), and Things to do around Dallas. Our Hotel was the Marriott of the Shops of Legacy and they were FABULOUS to work with.  They were kind and accommodating, great rooms, great food and in a great location!
In case any of you are interested, here are our things to do at Shops of Legacy and Dallas:
Here are some of our favorites at the Shops of Legacy:

Places to Eat:

Mexican: Taco Diner ($) & Mi Cocina ($$) are both excellent choices if you want a bit of TexMex flavor- we highly recommend the fajitas at Mi Cocina or the Nachos at Taco Diner. And the Mango Margarita at Taco Diner is fabulous.

Burgers: Twisted Root Burger ($) is a great option for some casual food, they offer excellent burgers, homemade Root Beer and excellent shakes.

Fancier Fare: Jasper's Steak house ($$$) is an excellent option—definitely choose their blue cheese chips as an appetizer and I highly recommend their beef short ribs… they will melt in your mouth.

Things to do:

The Angelika Cinema is located in the shops of legacy and usually offers an excellent selection of independent and artsy films.

The Gingerman is a pub that offers a huge selection of specialty beers and a great place to relax and enjoy the evening.
And Around Dallas: (most of these are centered around Plano, where our church was)
And a few more of our favorites for around Dallas:

Places to eat:

Mexican: Blue Goose Cantina (there are several around the Dallas area) is a favorite of ours and a regular stopping place for us.

Chuys –located on the northbound side of the Dallas North Tollway, Chuy's is an excellent choice for an eclectic atmosphere! Don't miss their queso!

BBQ- Dickey's BBQ is delicious and good ole Texas BBQ—try their fried okra and sweet tea for the true Texas taste.

Italian- Patrizio's  located at Park and Preston in Plano is a good option for a good Italian meal—the atmosphere is very Italian—loud and full of good food!

Things to do:

The Sixth Floor Museum- a fantastic museum about the Kennedy Assassination and all kinds of conspiracies: it is a very well done and high quality museum in downtown Dallas. 411 Elm St.  Dallas, TX 75202 $16 dollars per person (free if you are under 5)

Dallas Arboretum- a BEAUTIFUL display of flowers sitting right on the banks of Whiterock Lake, this is a fun place to spend some outdoors time.  8525 Garland Road, Dallas, Texas 75218 $15 dollars per adult, Children 3-12: $10.  Under 3- free.

Fort Worth Zoo- is a wonderful zoo about a 45 minute drive from the hotel. Specifically geared towards children they have over 5000 animals and is an excellent way to spend your day! 1989 Colonial Pkwy  Fort Worth, TX 76109 $12 dollars per adult, $9 dollars per child 3-12, 2& under free.

Arbor Hills Nature Preserve-This is a park with hiking and biking trails in the middle of Plano and boasts a fun playground for children as well. FREE.  6701 W Parker Rd. Plano, TX 75086
Want to see other parts of our wedding?  Check them out here: