So a while ago I shared with you all my Master To Do List for this house.  And then my mom called to tell me she needed a nap just from reading the exhausting list! But about 3 1/2 months later, and we can actually check a whole bunch of things off this list! (Mostly that is due to hiring a house painter to do all the house painting–best decision ever).  But I thought it was high time to give you guys an update on where we stand in this house… especially since I'm starting to feel like this home is truly us! It is always amazing to me how long it takes to feel settled in a new place.  So without further ado… an update.
Living Room:
Hang photos
Do something decorative with the mantle- I hung a picture, but so far I'm still fairly uninspired
Paint
Hang Curtains- I bought curtains… but haven't hung them since I haven't found a long curtain rod that will fit our space yet!
Wire up the house wide surround sound- this is on the back burner since I think it will take about 1,000 to buy another piece of equipment to do it right, and we just don't need a house wide sound system that badly
Dining Room (Lexie decided she needed to be in all my pictures!)
Hang Photos
Paint
Remove MASSIVE mirror- the mirror is actually growing on me… so until I get some inspiration on what to do instead, it stays
Replace that light fixture.  I don't love the yellow and brown light fixture, so I'm on a hunt to replace it with something a little more us–but so far all the ones I fall in love with are outrageously expensive, so until we find something more in our budget… it remains
Kitchen
Paint- its been an ongoing debate in our house about whether to leave the red of replace it, but I think we've settled on changing it out for something more neutral/soothing
Put in double ovens (forever on my to do list; somehow never at the top of what to spend our money on…)
Replace the kitchen sink: it is very small and has chipped down to the metal, so eventually this will get swapped out for something more useful
Replace the light fixture over the table  I never posted about this, but the husband and I loved our new light fixture in the last house, so when we went to list our house, we swapped it out with something we weren't as attached to so that we could bring it to the new house, and I still love it!
Paint
Hang curtains that aren't bizarrely short
Put in new shelving in the closet
Hang Photos
Swap out desks
PAINT PAINT PAINT
Find matching nightstands
Hang pictures
Seating area in front of window
Repair shower and bathtub faucet
Replace knobs
Paint trim white– our painter actually added this to his list for DIRT cheap… so I am so grateful to not be painting over that brown paint on my own!
Paint Cabinets
New Curtains- so far I haven't missed having curtains in here, so this falls pretty far down the list!
Organize Closets  they aren't SUPER organized… and nothing like our old Elfa closet but they are working for us, so I'll count this as done
Storage Cabinet over toilet
Nursery
Unpack the boxes
Baby Furniture
Paint
Decorate- I still need to hang things on the walls, but this room is getting dangerously close to being done!
Put a new top on the bookshelf that will be wide enough for a changing table
Curtains
Paint
Add Bookshelf
Hang Pictures
Hang Curtains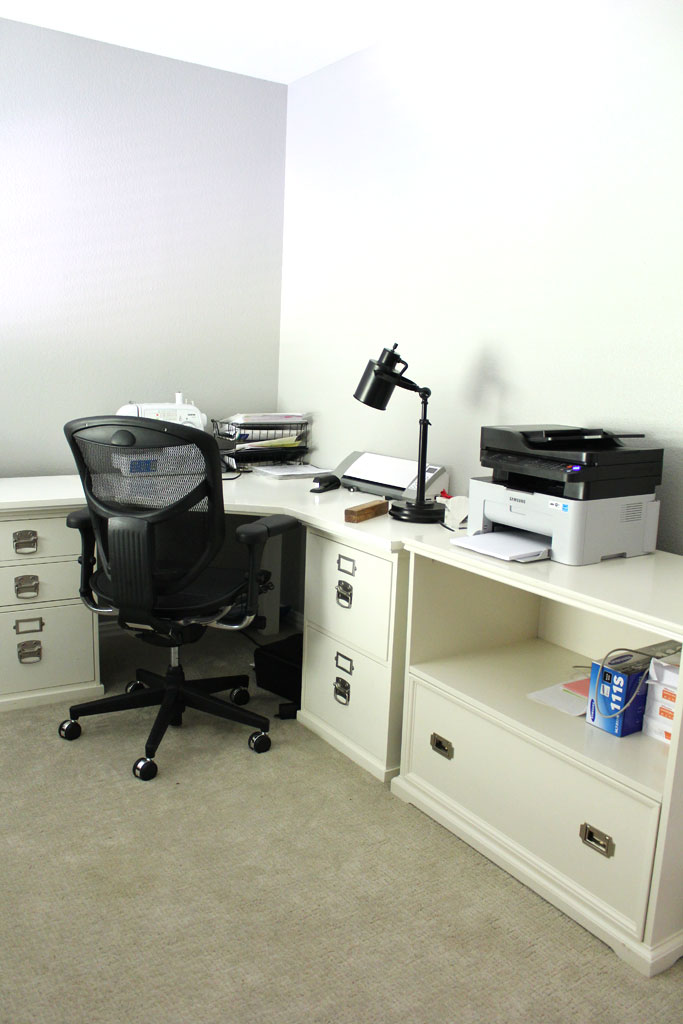 Office/Craft Room–This is probably our most unfinished and unposted about room on the blog.  Eventually I'll get to it…
Finish Unpacking
Build a craft desk/make craft closet more useable
Paint?
Hang Pictures
Swap desk
Organize Desk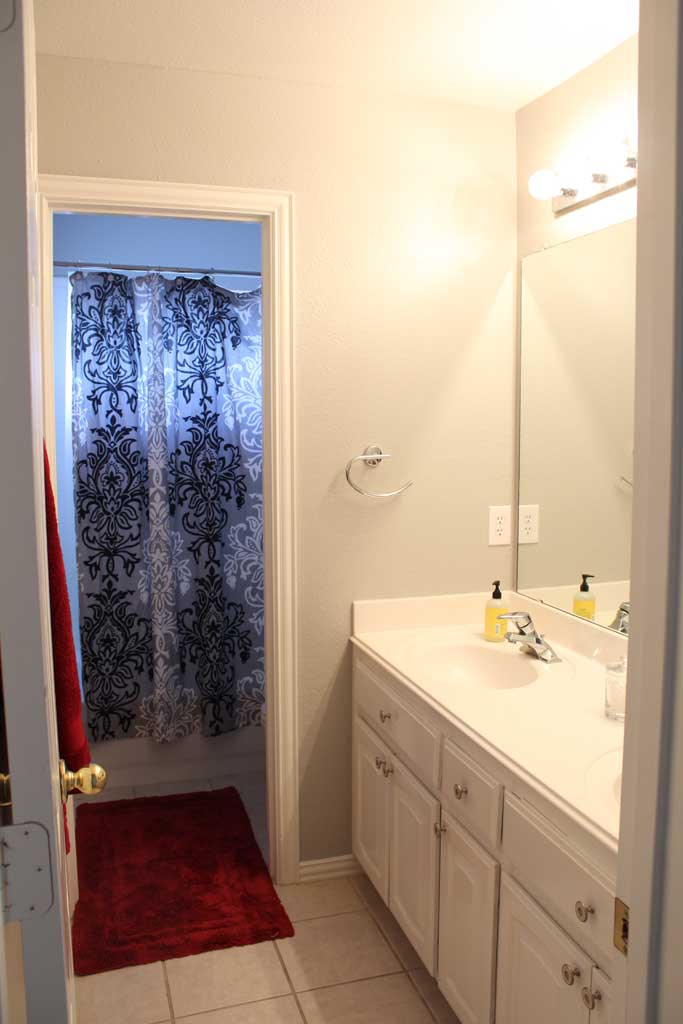 Upstairs Bath- This will be the baby's bathroom, so I imagine it'll be overcome with bath toys in the very near future
New Vanity
Paint
Shelving?
Misc
Turn coat closet into a 'drop zone'
Unpack/organize garage
Power wash front driveway- turns out we don't have a faucet out front… making this a lot trickier!
And I'm adding to the list:
Garage:
Build a workbench
Park a Car in the garage
Figure out wood storage
clean off shelves
Hang Bikes
Epoxy the Floor
Attic Space:
Figure out some sort of organization
Unpack the final boxes