One of the bloggers I stumbled across a year or two ago and just adore is Jen Woodhouse.  She has some of the most beautiful woodworking projects, and a fun personality to go with it (at least on the internet… I of course have never met her!) But right around the time I was searching for a way to deal with all of my jewelry, she wrote a post for another blog I follow, I Heart Organizing, showing off her jewelry organization and I just knew this was the right solution for me.
She has a great tutorial, so go on over there to read how to do it, but if you want to see mine in progress, read on!
I cut mine down into 3 12″ sections and I used some scrap cedar boards that I had lying around (I've promised the husband to try to whittle down our wood pile before I go out and buy more for a project!), but you could use anything that is 1×2 (or even chunkier if you wanted a different look!).
So for my first step, I stained them with some leftover stain (I'm pretty sure it is Kona from Varthane, but the can is getting a little hard to read).
Here they are before I wiped off the excess:
Then I took them upstairs to the bathroom and drilled the holes in them right there (because who doesn't need a little extra sawdust in their bathroom?!):
PS those little hooks are monsters to screw in, my fingers were definitely tired after screwing in about 20 of them, but it is worth it!
I made three with different uses One with LOTS of hooks for narrower items, one with hooks in every other hole for my chunkier 'statement' pieces and then one with the brass rod to hang earrings and other items from.
One thing Jen doesn't mention in her post is how thick the brass rod is, so the first one I ordered was too thick for my earrings to fit around.  The one I ordered from Amazon is 1/4 inch, but I also think you could get away with the 1/8th of an inch.  A couple of my earrings that have tighter hoops have a hard time staying on the rod.  But I thought this was an ingenious way to display my jewelry and is a perfect use of the blank wall in my closet that is the back of my husband's shelves!
I love that it makes all my jewelry easy to see and easy to grab!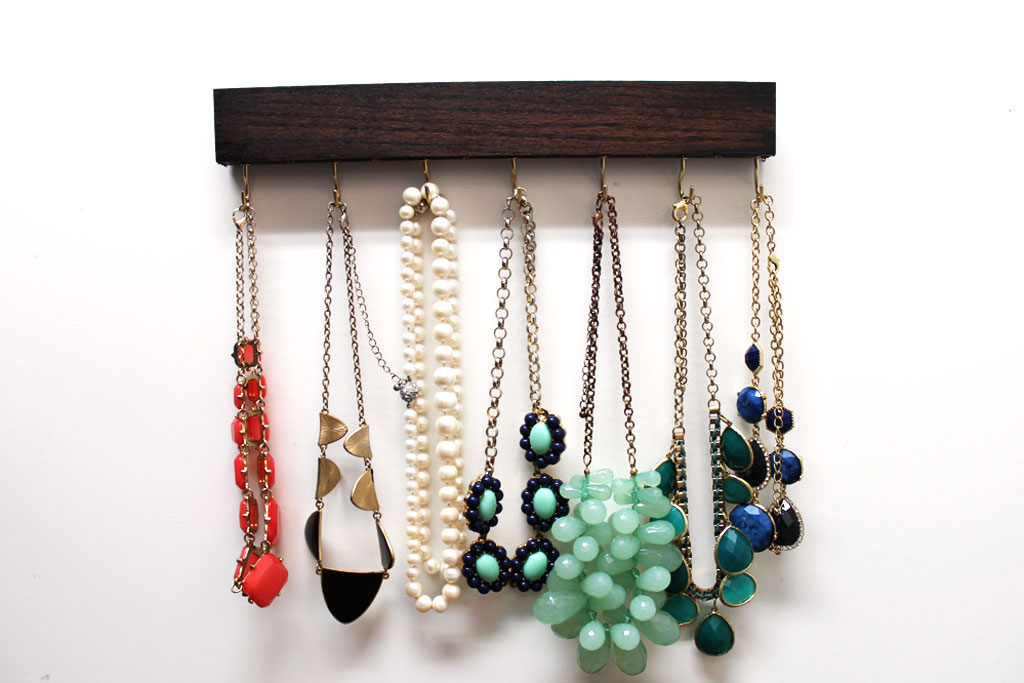 I may add another shelf under the earring shelf or may just move it down since it is hung a wee bit high… but for now, this works really well!
Now I just need a way to display my bracelets!