So it is officially down to the count for Baby Girl to arrive, with only 6 days until her due date!  This past weekend my mom and I finally put some of the finishing touches on the nursery and aside from putting a picture in an already hung picture frame and hanging the one last letter I have to hang, her nursery is DONE.  Totally finito and ready for her to come (although rumor is they don't really spend much time in their nursery for the first little bit!).  But whenever she does, it will be ready for her!!  I've blogged about most of the projects as we've gone along, so mostly I'll just show you the final product now!
It's not a very large room, but it is so cozy and I love the way it turned out!! Here was my inspiration post, and where I was dreaming of the room going… and it turned out to be just like I wanted it to!!
Right when you walk in you see Baby Girl's crib with her alphabet wall hanging above it, then her changing table with the Box Valance I made above it.  The alphabet wall is by far one of my favorite parts of the room (although it is hard to pick just one!!).  At my baby shower each of my friends were asked to bring a letter (coordinated by my best friend so there wouldn't be duplicates!) to hang as an alphabet on Baby Girl's nursery wall.  I LOVE how it turned out… and mostly I love how I can look at the wall and remember the people who gave me each letter and how much they love this little girl who isn't even born yet! I love all the color it brings into the room and how eclectic it is… it reminds me of how diverse all my friends are and how lucky I am to have them in my life!
On the other side of the nursery is the dresser I repainted, my rocking chair with home-made cushions, and a little side table I snagged from Nebraska Furniture Mart, which is where a lot of the coral accent pieces came from as well.
My friend also made baby girl her own ruler to measure her height as she grows!! I love the way it turned out!
The room is full of fun details, and I love all of them! I can't wait for her to feel at home in this space! One of the things I look forward to most is reading to her! My brother and sister-in-law gifted her a library full of great kids book in hard board book form so she can start reading at a really young age! And of course they look best in rainbow order! (Don't worry I know this won't last long!)
I'm so excited for her to arrive and to share all the cute details with her!
And it's hard to imagine that this room looked like this just a few short months ago:
Let's see those two side by side shall we??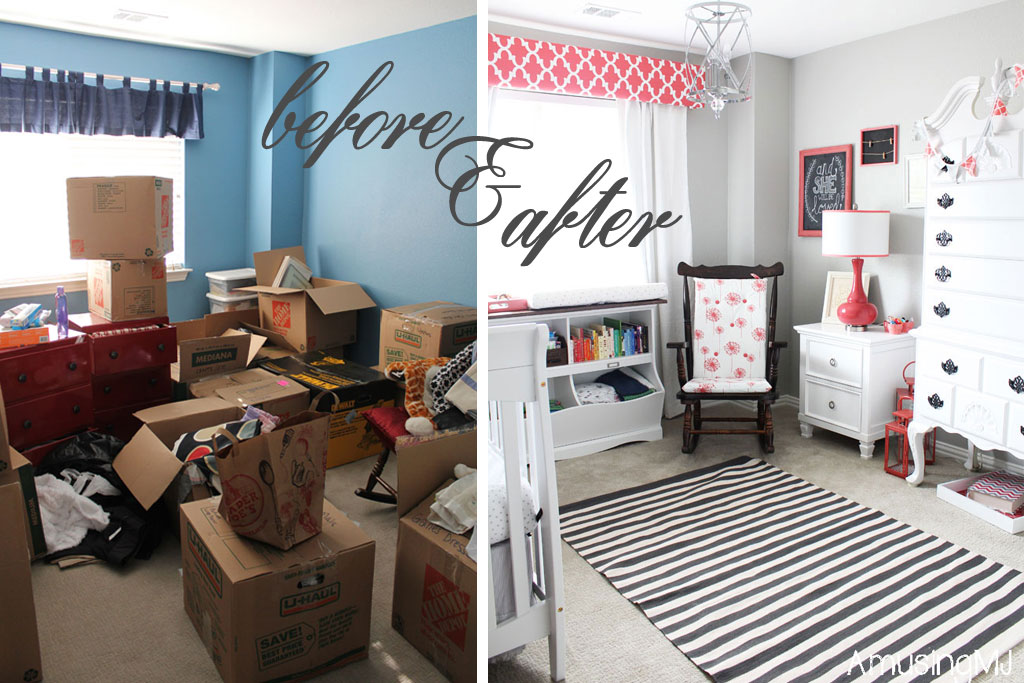 All right, I've linked to most of these in the text above, but just in case you want them all in one place, here's the whole progress on the nursery:
And just for those of you who are curious about some of the sourcing:
rug: Dash and Albert 
paint color: Light French Gray, Sherwin Williams
Light Fixture: Amazon
Changing Table: Amazon (we added a piece of furniture grade plywood to the top to make it wider)